Cambridge Scholars Publishing are delighted to announce that we will be supporting the British Commission for Military History's (BCMH) forthcoming New Research in Military History 2018 Conference. The conference is being held at the University of Southampton on the 16th and 17th of November. The theme of the conference is Myth and Reality, borne of the recognition that accurately representing the past, and especially its wars, are often the foremost concern of military historians.
The Call for Papers for the conference is below, and all who submit an abstract, or register to attend the conference, will automatically be entered into a prize draw to win a military history book of their choice from our catalogue. Not only this, delegates of the conference will be able to receive a bumper discount on selected titles in military history.
Abstracts of 300 words for both 20 minute papers and 5 minute mini-presentations should be submitted to Zack White, the BCMH's Post-Graduate Liaison, at z.white@soton.ac.uk. Those submitting should also send through the applicant's name, a contact email address, an indication of whether they would like to do a 5 or 20 minute presentation, and a short (200 word) biography. All papers focusing on military history in any historical period are welcomed and will be reviewed by the NRC Organising Committee. The deadline for submissions is 19.00 on Sunday 23rd September 2018.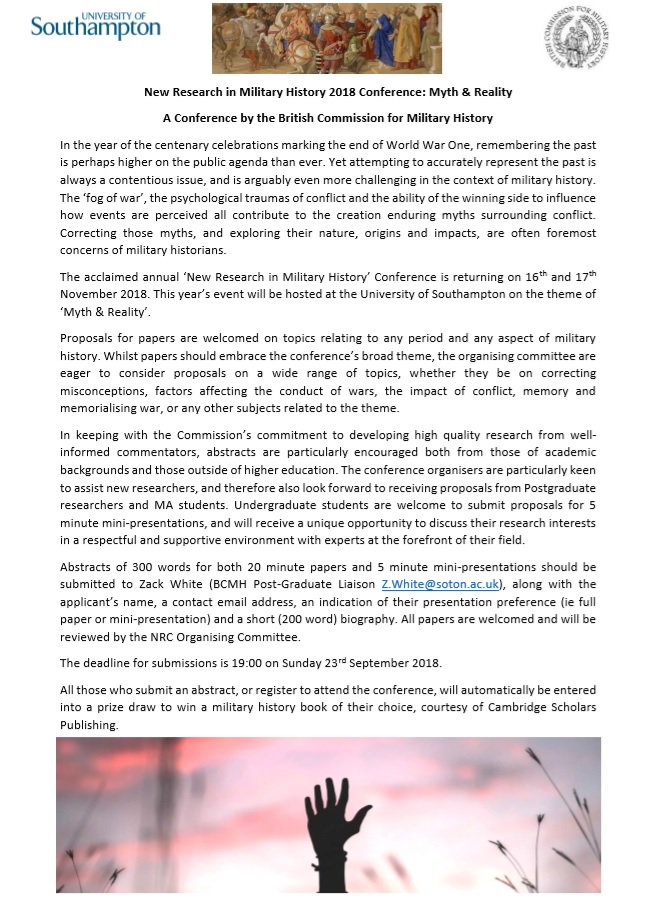 ---